Back to news
New Regulations
On the 20th July 2020, the Government introduced new changes to the Planning Use Classes Order, effective from 1st September 2020. The full title is 'The Town and Country Planning (Use Classes) (Amendment) (England) Regulations 2020 (2020 No.757)'.
Why the Planning Changes have been introduced
The changes have been introduced to try and aid high street revival as trends in the commercial market change. They allow greater freedom for businesses and landlords to adapt to changing circumstances. They can respond more quickly to the needs of their local area, without the need for planning permission.
The New Use Classes
The new regulations seek to 'amend and simplify' the use class system in England. Three new use classes have been introduced. These combine several of the previous use classes into larger groups of uses.
Class E 'Commercial, Business and Service' has been created.
This use class incorporates:
–
Restaurant (Previously A3)
–
Financial and Professional Services (Previously A2)
–
Offices (Previously B1)
Other uses which were previously in D1/D2 and other uses which are 'suitable for a town centre area' these include:
–
Indoor Sport, Recreation and Fitness Facilities
–
Medical and Health Facilities
–
Creches and Day Nurseries
–
Research and Development Facilities
The additional two new use classes that are being introduced are Class F.1 (Learning and non-residential Institutions) and Class F.2 (Local Community).
Class F.1 has been introduced to absorb the remaining parts of current use class D2 which are not included within Class E. This includes education, non-commercial galleries, museums, libraries, public halls, places of worship and law courts.
Class F.2 absorbs part of current Class A1 and D2 including small corner shops, local community halls, swimming pools and outdoor recreational areas.
Class B1 have been removed completely.
Additional Changes

Use classes A4 (Drinking establishments) and A5 (Hot Food Takeaways) have been removed and will be considered 'Sui Generis'. This also applies to cinemas, concert, dance and bingo halls which previously were within the D2 use class.
There are a few use classes that remain unchanged in all material respects. These are: residential (Class C), general industrial (Class B1) and storage and distribution (Class B8).
What the Changes Mean
and What Happens Next
The introduction of these changes means that movement between the new uses but within the same use class will no longer require planning permission as it will no longer constitute 'development'.
These changes are not linked to spatial considerations so will apply to high streets and all town centre uses located outside of centres, which could result in the introduction of non-office uses in out of centre business parks.
These changes also allow buildings to be used for a number of uses at the same time or for different uses at different times of day. For many properties this will greatly benefit landlords and tenants in making it easier to occupy such properties for a broad range of uses.
The 'Sui Generis' consideration regarding use classes A4 & A5 means that a change from one to the other would require planning permission if there is a material change in use.
Importantly, although the changes take effect on 1st September 2020, there is a 'material period' lasting till 31st July 2021. There is a grace period for development currently permitted under the General Permitted Development Order to happen with reference to the current use class definitions. The Government intends to introduce new rules on permitted development before next July.
Additionally, any live applications for planning permission submitted prior to 1st September 2020 will be determined by reference to the use classes in the current Use Classes Order.
Exceptions
It is important to consider existing planning permission may come with planning conditions and legal agreements attached. This may imposed restrictions or limitations or for example a planning condition may needed to fulfilled or if any external alterations to a building are required.
Summary of Changes to the Use Classes Order in England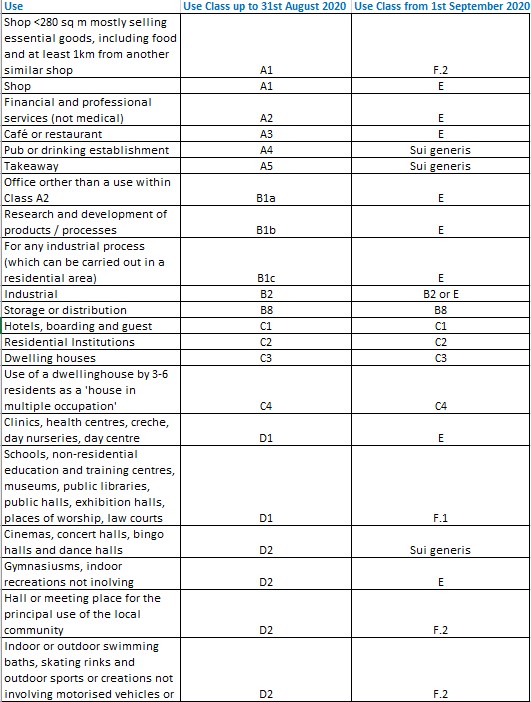 Do you require assitance with a commercial property matter? Please get in touch or call us on 0114 281 2183 for advice.
Back to news