Back to news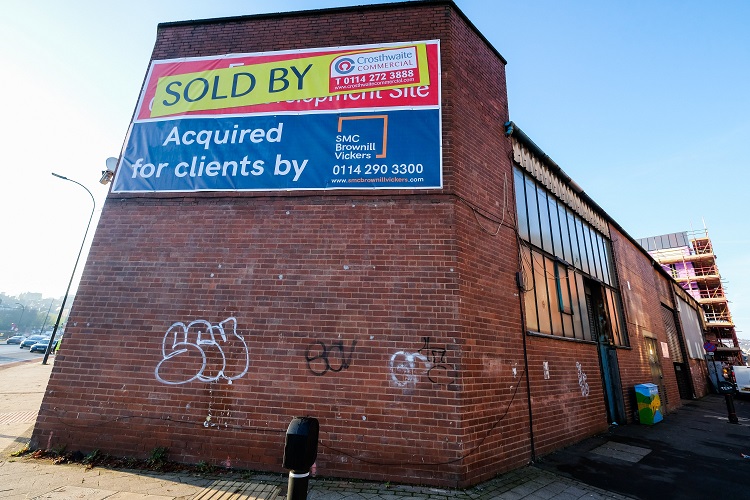 SMC Brownill Vickers can announce the acquisition of the site and buildings at 180 Shalesmoor, Sheffield on behalf of R.S.Sabkha Construction and Developments Ltd.
The 0.48 acre development site fronting Sheffield inner ring road went to market in the summer earlier in this year. Following a period of national private treaty marketing, best offers were sought in October 2021. SMC successfully advised our client on the bidding and acquisition of the site, before completing the deal at the end of November 2021.
The site had been the used for a variety of workshop and warehouses uses, but since the transformation of Kelham Island has had clear redevelopment potential. The high profile location offers an excellent development opportunity to add to the regeneration in this part of Sheffield.
Francois Neyerlin at SMC Brownill Vickers said: "I'm delighted to have secured such a key site in Kelham Island on behalf R.S.Sabkha Construction and Developments Ltd. This development is one of the most exciting opportunities in the area and we look forward to seeing the finished built out scheme."
This freehold development site was marketed by Crosthwaite Commercial. Mark Holmes from Crosthwaite Commercial "We are delighted with the sale of 180 Shalesmoor after a successful, proactive marketing campaign on behalf of a local investor. We achieved high levels of interest from both local and national developers, which resulted in going to best and final offers after a short period of marketing. After being instructed on the sale in August, we were pleased for the transaction to have completed so quickly in November which was a testament to both the vendor, the purchaser and their professional teams."
Our client is currently under construction on the next door site at Cotton Mill Row which will deliver 90 high quality apartments above two commercial units. This new development should be completed in spring / summer 2022, before attention moves onto the site at 180 Shalesmoor.
Do you require acquisition advice to find a commercial property? Please get in touch or call us on 0114 281 2183 for advice
Back to news