Back to news
As I write this much of the world is under restrictions considered unthinkable six months ago. Property markets are paused, stock markets are volatile, people are stressed and the death tolls are still high.
A recap of some points to consider:
Life will continue for most people after the pandemic.
Around 80% of people infected will suffer either very mild symptoms or be asymptotic.
Most worst case scenarios anticipate 60% to 80% of the world's population will contract the virus over the next 12 to 14 months.
Vaccines may take until late 2020 or longer to be widely available.
Social distancing in some form is likely to be around for months to come.
Safety and convenience will be key to most people's behaviour.
Mass gatherings and widespread international travel are unlikely to happen until late 2020.
The leisure and hospitality sectors will need generous support.
The immediate impact on the commercial property market has been widespread shutdown. Many businesses have either been forced to close or advised to work from home where possible.
Prime Minister Boris Johnson announced the 'Covid-19 Recovery Strategy' earlier this week.  The purpose is to attempt to get Britain out of lockdown. This includes a phased plan to open up different sectors of the economy.
Below I outline some ways in which Coronavirus may impact on different sectors of the commercial property market.
Many changes were already happening before covid-19. Some will accelerate due to the pandemic.
Retail
Non-essential shops are expected to open up under the phased return. Although customers in time will come back, it's understandable that turnover may take time to return to normality. There are likely to be operational issues which impact on costs. Such as a need for more staff at an entrance or permanently behind a plastic till screen.
Retail Vacancy Rates?
The trend in retail demand has been clear for all to see. Over the last few years high street tenant demand has declined reflecting in stagnant or lower rents.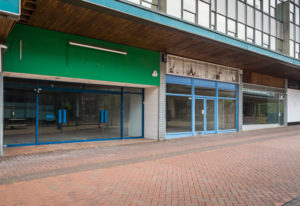 Even before covid-19 took hold this momentum was leading to more shop closures compared to openings.  According to a recent Local Data Company Retail and Leisure report in 2019 there was a net closure of 9,169 retail premises. The same report also noted a vacancy rate in Q2 2019 of 12.1% which was the highest since 2013.
Major retail names including John Lewis have conceded not all of their shops will re-open post-lockdown. You would have to be bullish not to expect that vacancy rate trend to continue as the impact of the pandemic is worked through.
Retail Lease Lengths
There has been a tendency for many retail leases to get shorter. Given the pandemic will as many large operators and independents still want to sign up to 10, 5 or even 3 year lease terms, given the uncertainty around the retail landscape?
I would expect tenants to request more frequent break intervals within a lease. Also possibly the inclusion of 'covid/pandemic' clauses in case a similar situation happens again in the future.
Other retailers with long retail leases which are over rented, could look to re-gear lease terms.
What Retail types will suffer and prosper?
Essential retail (convenience stores, food, pharmacies, etc)
Coronavirus has reminded many landlords and investors that investing in essential retail can provide relative safe havens in times of turmoil. Well let investments (long leases, FRI terms, with RPI index increases) of such essential retailing should be more resilient. With competition between investors to acquire these more secure income flows if available on the market.
Convenience stores, pharmacies and funeral directors for example have of course remained opened. Whilst bars, clubs, cinemas, restaurants and other non-essential retail have closed. Many national convenience store names such as Co-op and One Stop are still actively looking for new sites around the UK. Lidl and Aldi have a strategy to continue to open more stores over the next couple of years in all corners of the country.
Tesco has announced a big ramp up in delivery slots given the change in demand and supply. Tesco Chief Executive Dave King announced that shoppers were going back to the big single weekly shop of the early 2000's as opposed to more frequent smaller transactions.
E-commerce with Physical Retail
Those businesses able to combine an e-commerce side with a physical store should be more protected. Some retail businesses will be able to straddle the physical and digital store fronts, as well as taking advantage through access to more local delivery points. Delivery service based businesses are set to see an increase in demand and these businesses could take up retail space.
Some bars and restaurants have quickly adapted by offering online delivery for alcohol and food. If operators can create a new channel to find customers it will make a business more robust once we're through the pandemic.
Technology in the food & beverage sector can also assist with social distancing. Operator apps allowing customers to order and pay from their table.
Virtual reality could assist with certain shopping experiences such as trying on new clothes.
High Street Retail
We've lost many retail types and household names over the last couple of decades. This has resulted in independent retail operators comprising approximately 64% of the retail market.
Certain retail types saw declines in 2019 and that looks set to continue in 2020. Retail types which saw declines in 2019 include estate agents, bookmakers, pubs, domestic appliance shops, and travel agents.
Many of the fast growing retail areas in 2019 such as barbers, beauty salons, café & tearooms, and nail salons have been hit by the lockdown measures. In the short term with social distancing these businesses will likely under trade for a time. More flexible trading hours could get round this for certain businesses. Barbers should experience a surge in demand once shops are allowed to open.
Less High Street Bookmakers
In the UK there are around 9,000 betting shops. Ladbrokes and Coral have around 4,000, William Hill 2,300 and Betfred have 1,550.
Given the changes in FOBT rules and greater regulation, high street bookies have been in retreat in favour of online gaming. The pandemic will further accelerate this. William Hill have shut many stores with ongoing negotiations around the UK to surrender existing shop lease agreements.
Will certain areas of the country do better than others?
In the near term tourist locations like coastal towns will be particularly hit. Depending on the opportunity for UK residents to travel abroad once restrictions are lifted, these locations could see a surge in footfall and demand if foreign holidays are limited.
Towns and cities with a high proportion of bars, restaurants and clubs, and therefore most reliant on this sector are more at risk from a prolonged lockdown period. The recent Local Data Company report on the impact on towns from covid-19, highlighted a number locations which have an under supply of leisure uses as well a high percentage of essential retail. Chesterfield, Peterborough, Rotherham and Enfield were highlighted under that criteria. These locations therefore may prove to be more resilient retailing locations.
Locations with particularly high rents in London, prime city centre locations, shopping centres who may have been insulated from retail pain that secondary high streets locations endured over the last five to ten years, are likely to experience a fall in demand at least for the remainder of 2020. If there are less office workers in these dense locations then the supporting retail is likely to be impacted.
If there is a reduction in office commuting as more people work from home, suburban retail centres could see a boost in use and demand as retail spend is reallocated locally. Similarly locations which have in the past been seen as having onerous commutes (in more rural locations), may see a revival as more people decide to live in these locations given more flexible remote working options.
Locations around major airports could be disproportionately impacted as less flights mean less economic activity. Locations around Heathrow, Manchester Airport, Gatwick, and so on. It was widely reported earlier this month that Crawley could be the most affected town in the UK by Coronavirus. A Centre for Cities report anticipated that up to 57% of town's workforce could be unemployed. This would be bound to lead to less discretionary spending in the shops in the local area.
Alternative uses for redundant retail space?
Residential
Areas faced with significantly lower retail demand will have to consider re-inventing. Either be redeveloped as a part of a wider scheme or be converted to residential. This is more likely to occur in particularly weak retail locations with persistent vacancy rates.
We haven't seen as much retail to residential as offices to residential over the last few years, because the scale isn't always so attractive for an investor. Also although retail rents have fallen, in many locations it often still makes sense to attempt to find a retail tenant rather than convert to residential use.
Developers have converted surplus upper floors by splitting off the area from the 'higher value' ground floor retail space. Those conversions are likely to continue, providing the residential demand is there to make the numbers work. It's self-fulfilling as a larger local residential population should then support the remaining retail.
Delivery / Logistics
Retail space could provide the 'last-mile' of logistics space for fast deliveries. Especially highly populated areas or retail parks could be suitable. Larger retail parks are well located and could be used as delivery hubs. This is particularly relevant because in many locations around the country there is a shortage of industrial space.
Offices
Working from home (WFH)
The coronavirus has resulted in many office workers remotely working from home (WFH) since the lockdown started on 23rd March (with many starting before) in the UK. Businesses have been forced to quickly adopt flexible working. The question is how far will flexible remote working go in the months and years to come?
Whilst there are obvious downsides with the lack of camaraderie and opportunity to generate ideas through face to face interaction, there are many workers whose productivity could be enhanced from remote working.
Some work will be better suited to a quieter environment. Open plan offices whilst ideal for sharing ideas, have long been criticised by some voices as 'productivity killers.'
Sir Martin Sorrell remarked on how he found working from home 'energising' and anticipated it would change his business working practices.
'I spend around £35m on property in a year, I'd much rather invest that in people than expensive offices.' Sir Martin Sorrell, S4 Capital Advertising boss and former WPP chief executive.
On the flip side there will be many parents with children and young professionals in shared accommodation who might not find home working such a productivity boost.
It's not practical for lots of businesses to work from home all the time, but it's a way of working which could be more widely adopted at least part of the time.
Dense Offices
Office configuration driven by a consensus view on corporate real estate culture over the last couple of decades has resulted in less and less sq m per employee and hot desking. That is now at odds with the guidance being issued by governments around the world regarding social distancing.
A densely clustered office in South Korea highlighted how easily coronavirus can spread in a crowded office space. 94 people tested positive out of 216 employees on one floor of a call centre.
Initially you would expect many office tenants and occupiers to readjust office configurations to less dense arrangements. This could be complemented by the introduction of more home working for those best suited to remote working.
For major office hubs with tall blocks like London, Manchester and Leeds, those issues may spread beyond the open planned offices, elevators, staff temperature checks, staggered arrival times, entry points and the building footprint. Even if you can create a 'safe' socially distant office will the bus, tram, train and tube system support it?
The management of multi-let offices could become a lot more onerous with greater obligations on a property manager to put in place effective management of the common areas, such as increased cleaning and disinfecting of areas.
Will more Office stock be Converted to Residential Use?
The demand for offices has been recovering since the financial crisis in 2008.
Permitted Development Rights (PDR) was introduced in 2013 by the government. PDR allowed offices to be converted to residential use. This allowed the office market to re-balance to a more sustainable equilibrium.
PDR allowed older redundant office stock to be reconfigured as residential stock. This has been particularly noticeable in major regional cities and towns around the UK. In locations where office rents suffered most following the 2008/9 crash.
There's been a significant amount of office to residential conversion over the last 7 years. Although there's bound to be a number of older office buildings still around which may present an opportunity for developers to convert, these opportunities have been fewer in recent years.
If the demand for offices does decrease some of that slack could be taken up by a rise in conversion. Planning reform in 2013 allowed more flexibility which allowed the market to adjust. Many council's (particularly in London) applied to be exempt from PDR, but this could go into reverse if the demand for office space in those locations falls as a result of covid-19.
I'd anticipate there will be a revived increase in office to residential conversion opportunities around the country. A lot would have happened in time, had covid-19 not appeared, but the onset of coronavirus will fast forward those decisions to sell or refurbish redundant space for property owners.
What will happen to the demand for Office Space?
In more recent times it's been felt the attractiveness of many offices is not always up to scratch in comparison to the comfort and productivity of a home office. Offices will need to be attractive spaces and productive for people to want to use them and spend time in them, otherwise workers (and business leaders) may as well work from home or elsewhere.
If some of the comments from major CEOs are to believed it's likely many will seriously look at whether they need as much office space. How far that translates into lower demand for office space and office rents is unclear. In locations where office space is relatively expensive (say London), you would anticipate the impact could be more severe than more cost effective regional locations.
Office space in regional centres (like Sheffield, Bristol, Nottingham, etc) may become much more appealing in comparison to London. Clearly other factors such as the talent pool, complementary businesses, lifestyle and supply of stock will be important factors too.
It's difficult for regional centres to replicate the density of complementary businesses, supporting legal and professional support networks, as well as cultural and leisure, which a city like London can offer. Therefore there's always going to be a draw to an office location in London. However the coronavirus pandemic may fast forward partial re-balancing away from London sucking in so many office workers from far and wide.
If work can be more flexible, why not have another satellite regional office instead of a very large central London office? Not having thousands of company office workers in one building would also mitigate any disruption if another pandemic arose in the future.
In the short term service offices, business centres and flex offices may struggle to maintain occupancy with social distancing rules. These are also the kind of spaces that freelancers and the self-employed tend to occupy. This group could be more harshly impacted by a major slowdown. Once the dust settles, if office tenants favour smaller and more flexible space (and leases), the service and flex offices may grow relative to the standalone office market.
The demand for offices will rely on the office environment being a productive space which contributes to maximising the output of each worker.
The use of an office will change, but if it can still have a role in enhancing productivity and the bottom line of business then it should survive for many years into the future. Remote working will grow, but there will always be a need for office space well into the future.
Industrial
Industrial space is an area of commercial property which has experienced the strongest demand in the last decade. In many UK cities and towns it can be difficult to find suitable leasehold or freehold industrial units to suit business needs.
Given the lockdown restrictions aren't necessary as applicable to many industrial uses. Work and business life has in many cases continued for industrial property. Enquiries for industrial space have been reasonably robust through the lockdown.
Industrial space is a long term bet on areas such as e-commerce, delivery services and urban logistics. This trend doesn't look like reversing anytime soon. At the same time more traditional industrial business don't have much choice when looking to lease.
Whilst some industrial businesses like those supplying restaurants, hotels and bars may be more exposed to a slowdown from the coronavirus, many will have been trading positively through the pandemic. The consensus view is that whatever troubles retail and offices may have, it could advantage industrial and warehouse property.
Assuming the economic outlook can bounce back to a reasonable level, I would expect demand for industrial property to remain strong. The pandemic will further accelerate the underlying trends going on in the commercial property market. And one of those is the increase in demand for warehouse space.
Those owners who hold industrial property are likely to be even less willing to dispose of this type of property. Not long ago an average industrial investment was considered riskier than an average retail or office investment. That has now resoundingly changed.
A particularly positive signal regarding the outlook for industrial sector was the recent Blackstone deal.  A transaction for  2m sq ft portfolio of urban logistics in the UK in the midst of the coronavirus pandemic. At the other end of the market many commercial property agents are still receiving enquiries for smaller traditional warehouse space. Tenants keen to take on new industrial space to service demand.
Change is an often an overused word, but 2020 certainly looks set to result in far ranging changes for the commercial property market sector.
To discuss any commercial property matters please don't hesitate to contact us. Telephone 0114 281 2183 or email: info@smcommercial.co.uk.
Back to news